hermit wrote:
Hey Keri, sorry if I've missed this elsewhere, but is there any sort of a swap meet area or table for people to put up items they have to trade/sell but are not themselves sellers and so would not have use for a full table?

I seldom go to the mainland, but I'll be coming for this show and might have some equipment to sell/swap with people at the show. Just wondering if there's anything to that effect at the show. If not, I'll probably just try to plan it all out beforehand.
No, we don't currently have a table like that but it's a good idea? I do know sometimes people have split a table in the past.
_________________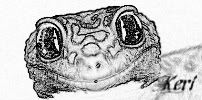 "How old would you be if you didn't know how old you are?"